"Traveling in Time" Exhibition is opened on August 29th, 2013
2013-08-23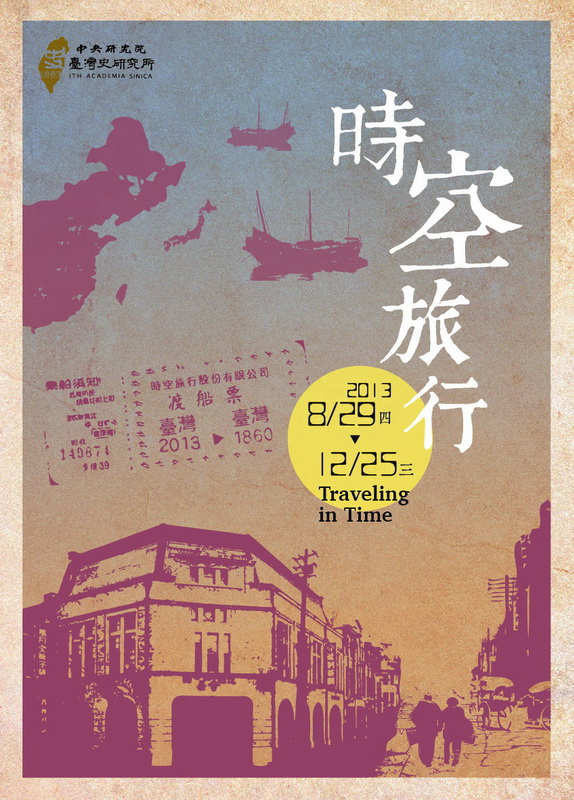 To celebrate the 20th anniversary of the Institution of Taiwan History (ITH), the ITH and the Academia Sinica Digital Center have jointly organized the "Traveling in Time" Special Exhibition.

The exhibition contains the colorful lives of notable historical figures, dating from the 1860s to 1960s. Selected individuals, include: Baozhen Shen (Ching Dynasty Officialdom), Chihu Hsu (Lukang family-run business trader), the Chen family (operated a family-run Nagasaki Tai-Eki Trading Company), Kazue Tsutsumibayashi (international entrepreneur), Tokusaburou Miyoshi (tea trader), Chenpo Chen (painter), Tzemei Kao (pianist), Hsientang Lin (anti-colonialism reformer), Jhaojia Yang (nationalist activist), and Kiyoshi Hasegawa (Taiwan Sōtokufu Governor). The selected materials for this exhibition include family letters, photographs, personal diaries, private manuscripts, and certificates. Except for still images and paper documents, interactive multimedia activities are offered in the exhibition hall.

These exhibited items were collected through contributions of various donors from different corners of the world, from which memories about Taiwan could be re-explored. These historical elements depict trading networks in Taiwan and beyond, featuring intellectuals' campaigns for reform, and nostalgic expressions from those who were far away from home. We are warmly inviting you to trace the footsteps of sojourners, local inhabitants, in and out of Taiwan and its offshore islands, throughout different time frames, while rediscovering precious memories that belong to this land.
Dates:
Thursday, August 29, 2013 - Wednesday, December 25, 2013
Opening times:
9:00-17:00 (Monday - Friday)
Website:
http://travelingintime.ith.sinica.edu.tw
Special Open Days:
09:00- 17:00 every first Saturday of the month (September 7, October 5, November 2, December 7)
Venue:
2F, Joint Library of Humanities and Social Sciences, Academia Sinica, No.128, Sec.2, Academia Road, Nangang District, Taipei City
Organizers:
Institute of Taiwan History, Academia Sinica; Academia Sinica Digital Center
Co-organizer:
The Archives of Institute of Taiwan History
Free guided tours (available through booking):
Ms. Yu-Wen Lin
Tel. +886-2-26525277
Email. betty168@gate.sinica.edu.tw
Booking online. http://digiarch.sinica.edu.tw