Image and Representation: Special Photo Collections of Taiwan during Japanese Colonial Era
2012-11-28
The far-away Emperor of Japan learned about Taiwan, the empire's very first colony, through written reports submitted by government officials as well as photography images, which not only concretely portrayed events and local cultures across the island, but also provided an alternative and easier way for the imperial regime to understand its colonial appendage.
The Archives and Mausolea Department of the Imperial Household Agency house a large number of distinctive Taiwan-related photographs with significant values for historical research. Through the "International Collaboration of Taiwan Historical Resources Acquisition Project (National Digital Archives Program)," the Institute of Taiwan History visited the Archives in Japan and brought back the reproductions of a selection of important, rare visual materials pertaining to Taiwan. Most of them are photos, spanning from 1897 to 1925. A total of 25 items, 917 digital images are collected, including 1686 pages of pictures and 49 pages of written documents.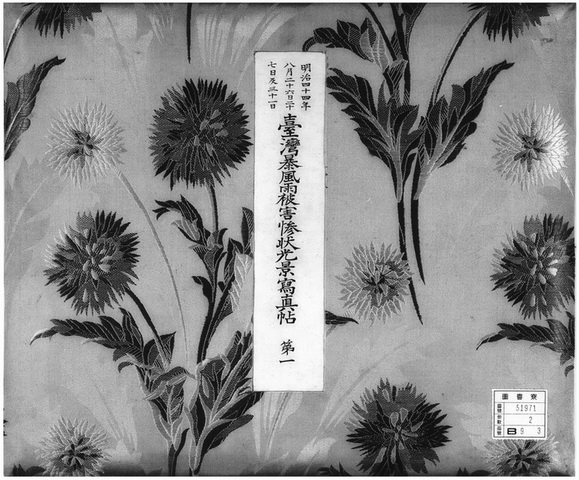 The photo album of natural calamities in Taiwan (1911)
These unique images of Taiwan under Japanese rule are mainly held in the Japanese Palace, capturing the colonial authority's impression on Taiwan. Among all, the photo albums created during the royal tours and the image collections presented by the Taiwan's administrative officials to the royal house are the most valuable. For instance, many of the scenes of Kan'innomiya Kotohitoshinnou and his wife's visits to Taiwan in 1908 and 1916 were well preserved in the albums of the royal family's trip. In addition, the Governor-General Samata Sakuma's military campaigns against the aborigines, the conditions of indigenous villages and immigrant residences in eastern Taiwan, and images of the storm-ravaged areas are also included; various aspects of Taiwan are clearly shown in these pictures worthy of further studies.
For more detailed introduction, please see the feature collection (in Chinese) and the Taiwan Archival Information System. Moreover, information about "Pictures of Taiwanese Family and organization Activities" is also available online now.