I. Zhuang-yi-fang Store
No.117, Section 1, Dihua Street was once the location of Zhuang-yi-fang Store in the Japanese colonial period. Manager Zhuang Hui-yu's ancestors were from Tong'an County, Quanzhou, Fujian. His grandfather's generation crossed the Taiwan Strait in Yongzheng Era and settled down at the end of Qing Dynasty. Zhuang-yi-fang's father died since he was a child. His mother raised him up singlehandedly. He inherited his family business Zhuang-yi-fang Store and conducted trade with the treaty ports in Hong Kong, Xiamen, Manzhou, Kobe, etc. The main business of Zhuang-yi-fang Store was the export and import of sugar, grain and fertilizer. In 1920, Zhuang Hui-yu, Yang Run-bo and Guo Wu-long jointly established Taiwan Alcohol Manufacturing Company brewing and selling rice wine. The company was later acquired by the government since the Office of the Governor-General enacted the monopoly of liquors. Besides, Zhuang Hui-yu was actively engaged in business leagues and trade associations. He also had held the position of the director of Daojiang Credit Associations, the vice president of Taipei Traders Association, the director of the Association of Store Construction Utilization in Eiraku-cho and the standing director of Grain Trade Association. Zhuang Hui-yu, Guo Wu-long, the shopkeeper of Guo-Yi-mei Store, and Chen De-gui, the manager of Yi-he-tai Store, were renowned merchants that were highly respected among locals in Dadaocheng.
When Zhuang Hui-yu was in charge of Zhuang-yi-fang Store, he established business relationship with Tai-yi-hou. There are approximately 200 business letters preserved, and these letters were sent between 1907 to 1938. In addition to frequent correspondence, Zhuang Hui-yu had visited Tai-yi-hou in Nagasaki. In September 1929, Zhuang Hui-yu, Guo Wu-long and Wang Mu-sheng, the manager of Fang-xie-feng Store went on a one-month voyage to Korea, Manzhou, Tianjin, Shanghai and Japan to inspect the treaty ports. At the end of the business trip, they took a steamship from Shanghai to Nagasaki and visited Tai-yi-hou. They only briefly stayed for one day in Nagasaki. After arriving back in Taiwan, they sent a letter to Chen Shi-wang appreciating his hospitality (see Figure 1). Zhuang Hui-yu and his bother Zhuang Hui-jin were both Tai-yi-hou's customers in Dadaocheng. Zhuang Hui-jin established "Zhuang-yi-fang Jin Store" in 1920 and initiated the business relationship with Tai-yi-hou. Their commercial interaction continued for 18 years from which around a hundred letters of correspondence remained.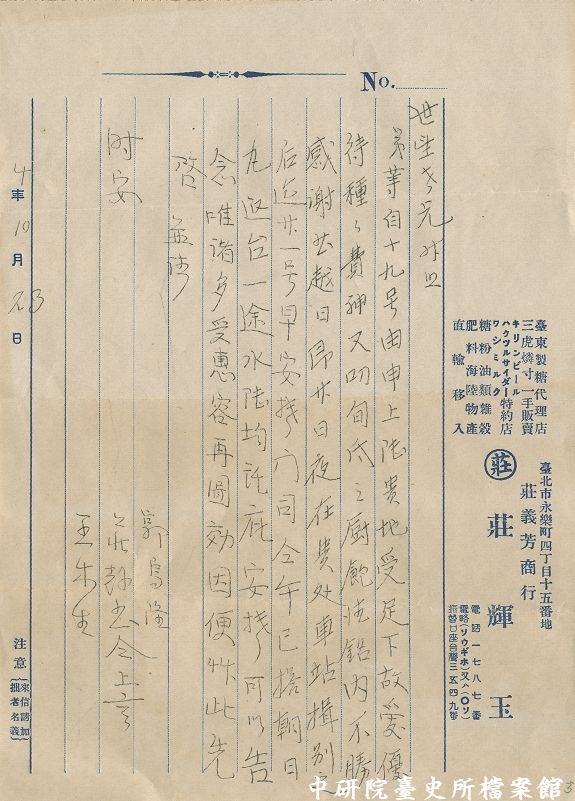 Figure1:The letter sent from Zhuang-yi-fang store to Tai-yi-hou on October 23, 1929.
(Source: Tai-yi-hou Papers in Nagasaki, the digital archives of the Archives of Institution of Taiwan History)

In addition, there is an important place related to Zhuang Hui-yu in Taipei. "The First Theater" which used to be the landmark of Dadaocheng located at the intersection of Yanping North Road and Bao'an Street is the First Enterprise Center now. In light of the Exposition of the 40th Anniversary of the Japanese Regime in 1935, Zhuang Hui-yu, the tea Merchant Chen Tian-lai and other traders in Dadaocheng financed 100,000 Japanese yen for the construction of "The First Theater." This theater had revolving stage and could accommodate 1600 people. It offered modern entertainments like movies, stage shows and dramas. Although the theater no longer exists, well-known writers like Lin Xian-tang, Lu He-ruo and Yang Ji-zhen had recorded their personal experiences of enjoying the performances at The First Theater (see Figure 2).
Figure 2: The Diary of Mr. Guan-yuan on October 8, 1935.
(Source: The Diary of Mr. Guan-yuan, the digital archives of the Archives of Institution of Taiwan History)